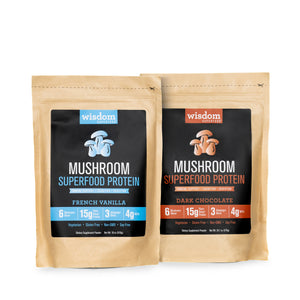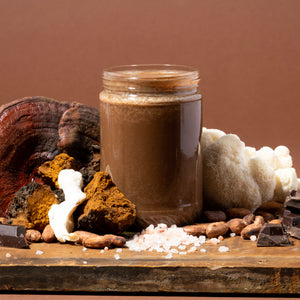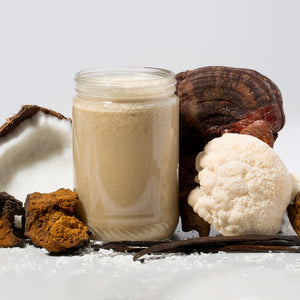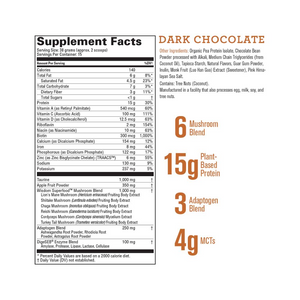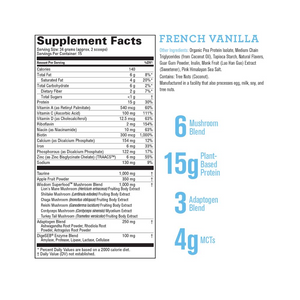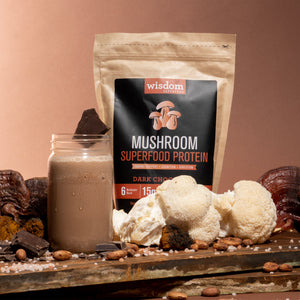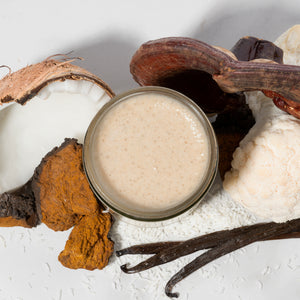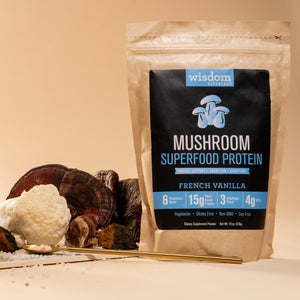 Wisdom Superfood Flavor Bundle: Dark Chocolate & French Vanilla with 15g Protein Per Serving
Wisdom Superfood Drink Mix Bundle: your ultimate daily companion for improved wellness and vitality! 🌱✨
Are you ready to enhance your immune system, support digestion, and boost brain health? Our Dark Chocolate & French Vanilla-flavored drink mixes are packed with incredible benefits derived from carefully selected ingredients. Let's dive into what makes our product so special:
🍄 6 Functional Mushrooms: Lion's Mane, Chaga, Cordyceps, Reishi, Shiitake, and Turkey Tail. Each one has its unique superpowers, from mental focus and immune support to heart health and longevity.
💪 15g Plant-Based Pea Protein: Repair and build your body's cells while enjoying the convenience of a delicious drink.
💎 10x the Daily Value of Biotin: Nurture your hair, skin, and nails for a healthy and radiant appearance.
🥥 4g MCT Oil from Coconut: Fuel your brain cells, promote weight loss, and enjoy sustained energy throughout the day.
🌿 12 Vitamins and Minerals: Ensure your body receives essential nutrients for optimal function and overall well-being.
What sets us apart is our commitment to your dietary preferences. We are proudly plant-based, gluten-free, and keto-friendly, allowing you to enjoy our superfood powder without compromise.
At Wisdom Superfood, we believe in providing clean and delicious nutrition to improve your life each day. We've carefully sourced the finest ingredients from around the world, ensuring our whole-food superfoods are not only nutritious but also easy to mix and taste great.
Harnessing a lifetime of experience, ancestral wisdom, and good vibes, we craft every batch with love and care. Our goal is to empower you to lead a healthy, vibrant life. Stay healthy, stay wise!
Suggested Use:
To experience the full benefits, simply mix 2 scoops of our Mushroom Superfood Powder with 10-12 oz of your favorite nut milk, coffee, or smoothie. For optimal results, complement your intake with regular exercise, a healthy diet, ample sleep, and effective stress management.
Our Ingredients:
We've carefully selected a wide range of powerful ingredients to deliver maximum benefits. From Lion's Mane and Chaga to Organic Pea Protein and MCTs, each component plays a vital role in supporting your well-being. We've also included digestive enzymes, prebiotics, and essential amino acids to optimize digestion, nutrient absorption, and immune regulation.
Embrace a life of wellness and vitality with Wisdom Superfood Mushroom Superfood Powder. Join us on this incredible journey towards improved health and discover the true power of nature's wisdom!
#WisdomSuperfood #MushroomSuperfoodPowder #HealthAndWellness