ONE POWERFUL SUPERFOOD THAT SEEMS TO BE FORGOTTEN HAS A CRAZY ABILITY THAT HAS ONLY RECENTLY BEEN DISCOVERED

Studies show it can give your immune system what it needs to avoid getting sick altogether...
---
There's nothing in this world more valuable than healthy, sickness-free moments.

"I started taking Wisdom Immune Support about 3 months ago and have felt a significant difference in my energy levels and overall health… Thank you Wisdom"

— Richard M
That's why when we discovered a powerful ingredient that nourishes your immune system like nothing we had ever seen, we knew we were on to something very special.
This a naturally sourced, plant-based ingredient found in a unique strain of fresh water algae.
This algae is so powerful that in one randomized, double-blind, placebo-controlled study, participants reported:
3.3 fewer self-reported sick days compared to the placebo group*
30 fewer symptoms, which is 70% fewer when compared to the placebo*
10 fewer URTI (Upper Respiratory Tract Infection) symptom days
compared to the placebo*
45% fewer URTI episodes compared to the placebo*
80% lower Overall Severity of URTI symptoms compared to the placebo*
All within a 90-day study…
So, if you were to take the same amount of active compound as the participants in the study you could have up to 13.2 fewer sick days in one year!*
This secret ingredient is called BetaVia Complete® and it's the flagship ingredient in our Wisdom Daily Immune Support Capsules.
In fact, we use 375mg, that is the exact same dose as was used in the clinical study.
This ingredient is a powerful source of beta-glucan from the Euglena gracilis algae. It's completely safe and effective.  
In these incredibly trying times, when our health and immune systems are so vulnerable, we need a defender that can help our immune system stay strong.
A champion that will go to battle every day to fight off attackers. Something that is all natural, safe to use daily, and derived from natural sources, not a bunch of chemicals mixed up in the lab.
So we started with Beta-Via Complete® from the algae, and we added 7 more all natural ingredients, that have been proven over the years to support a healthy immune system.
All of these are backed by solid science and shown to boost immunity, lower inflammation, and even help support digestive health, which we are all discovering is essential. All of that in just one daily dose of immune formula.
Which ingredients are included?

Selenium
Powerful antioxidant that helps maintain healthy levels of oxidative stress in your body.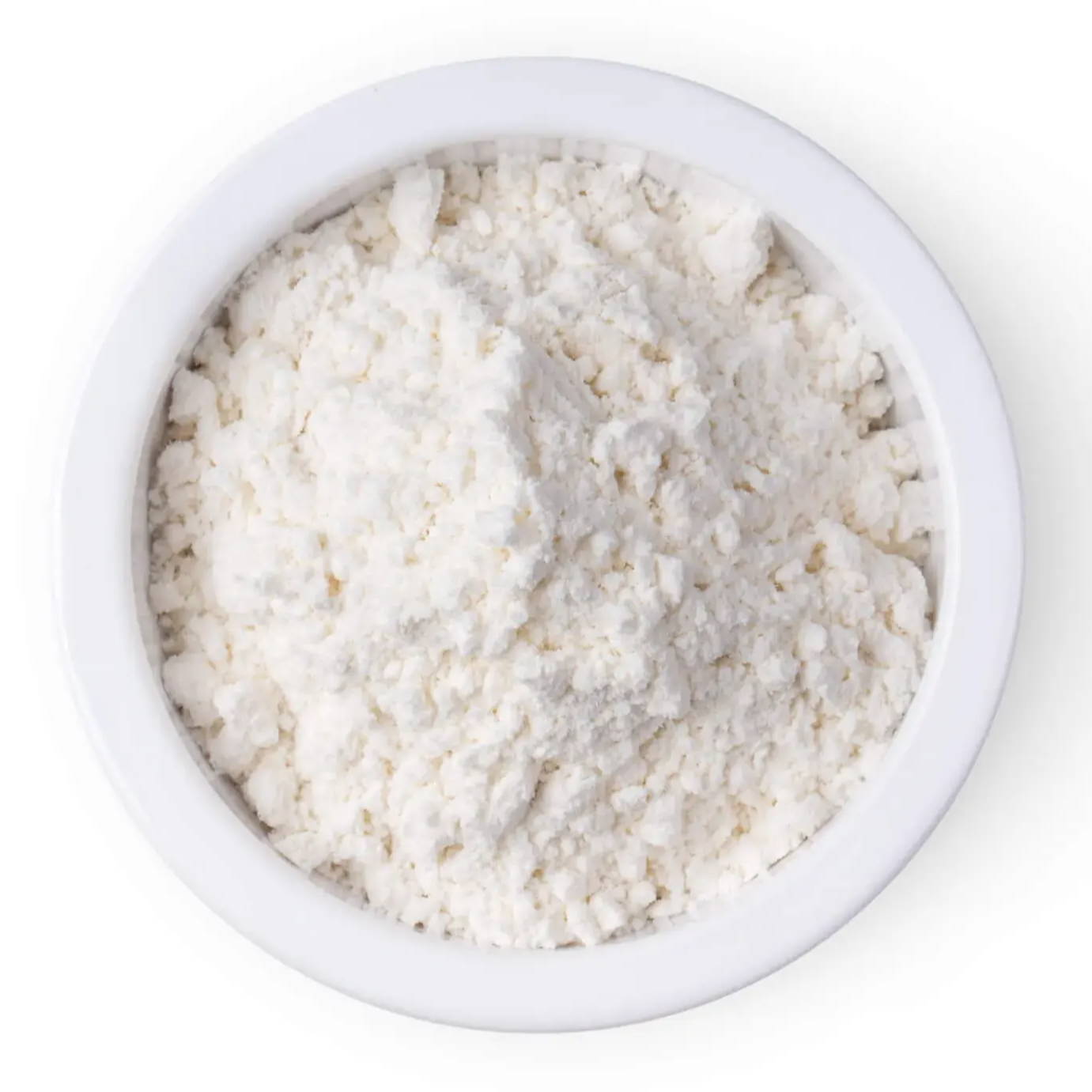 Vitamin B6
Can help boost the production of antibodies that are important in fighting pathogens.
It also supports the growth of white blood cells in your body.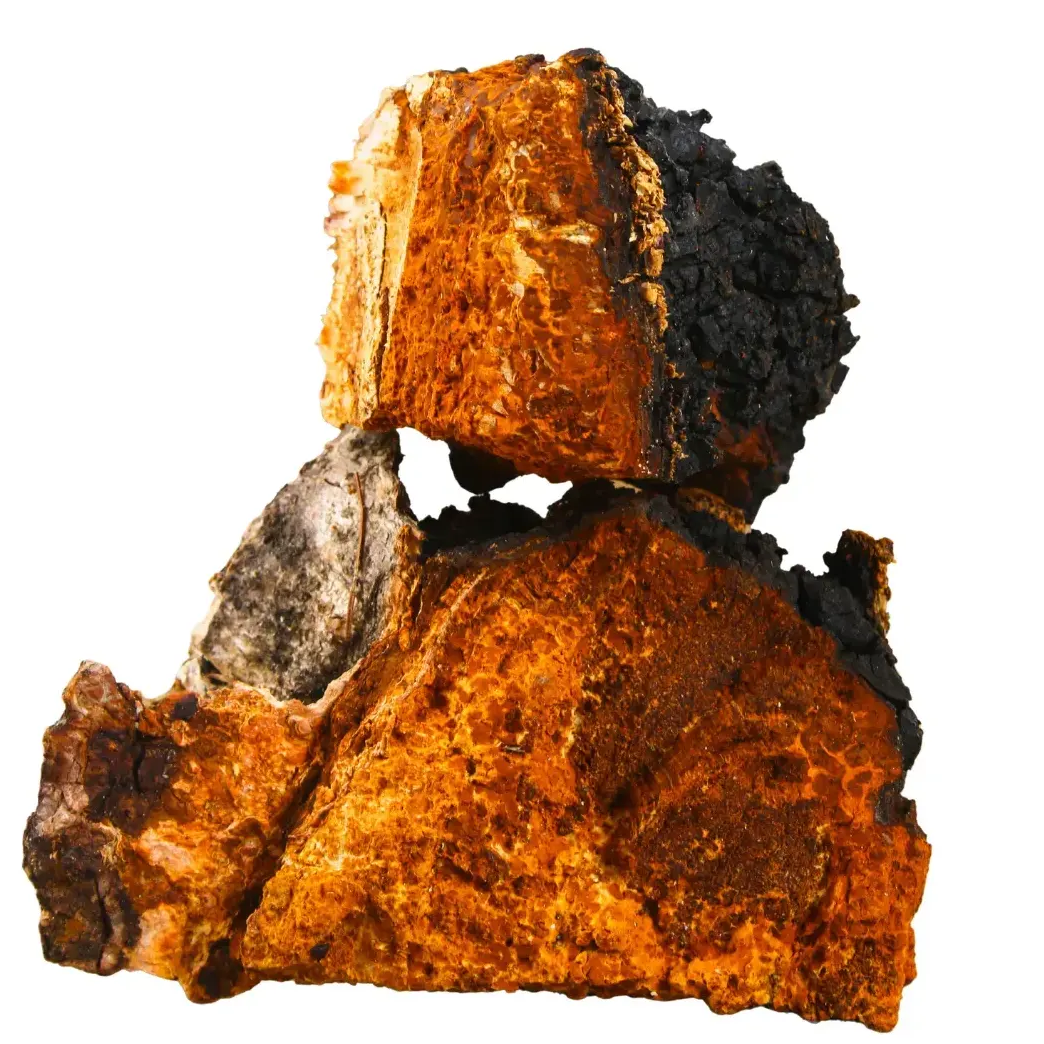 Chaga Mushroom
A potent antioxidant and immune booster, supports digestive health.
Zinc 
Supports the immune system to fight off invading pathogens. Our bodies use Zinc to make proteins and DNA, the genetic material in all cells.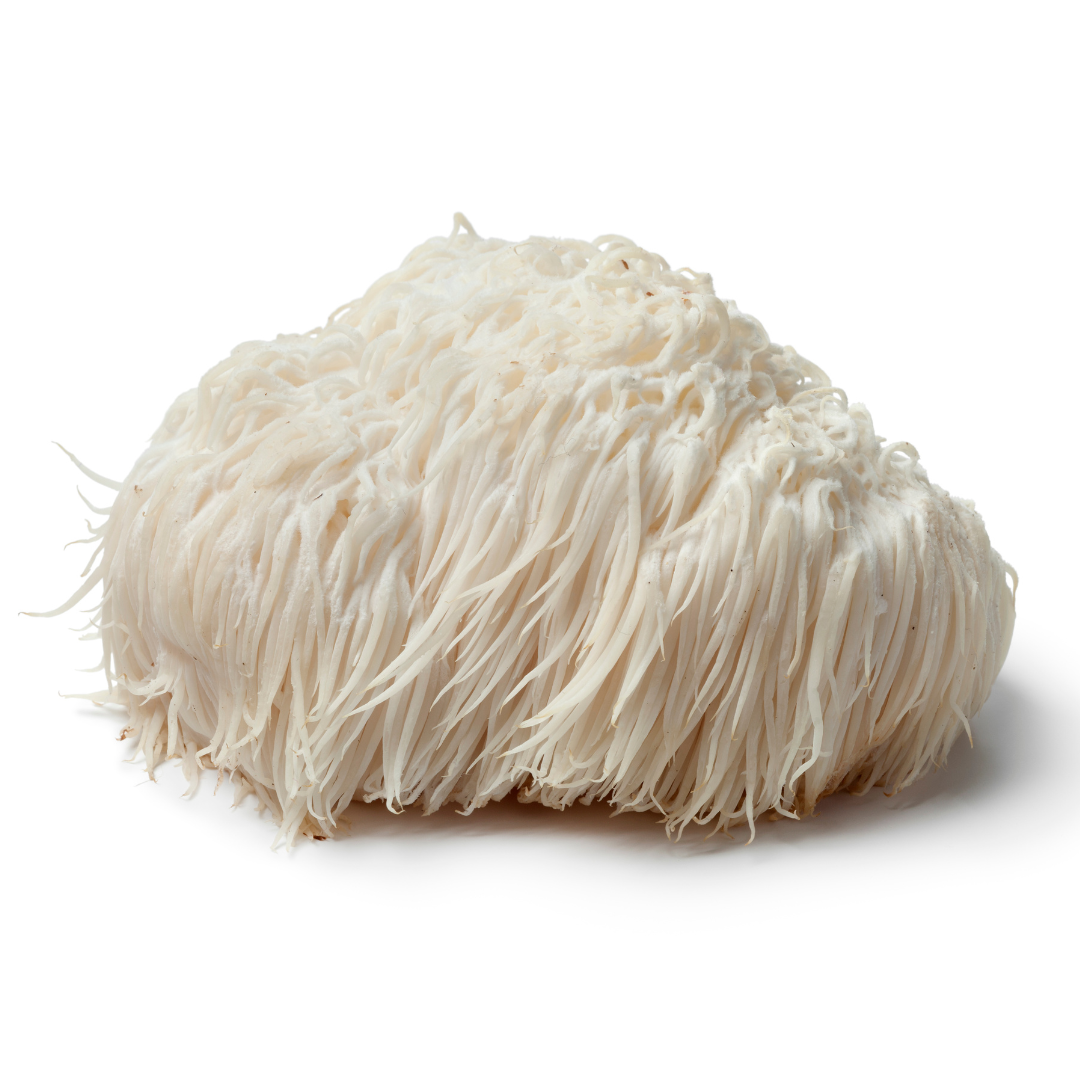 Lion's Mane Mushroom
Can boost intestinal immune health and protect from pathogens that invade the gut. Also shown to increase mental focus and nerve health.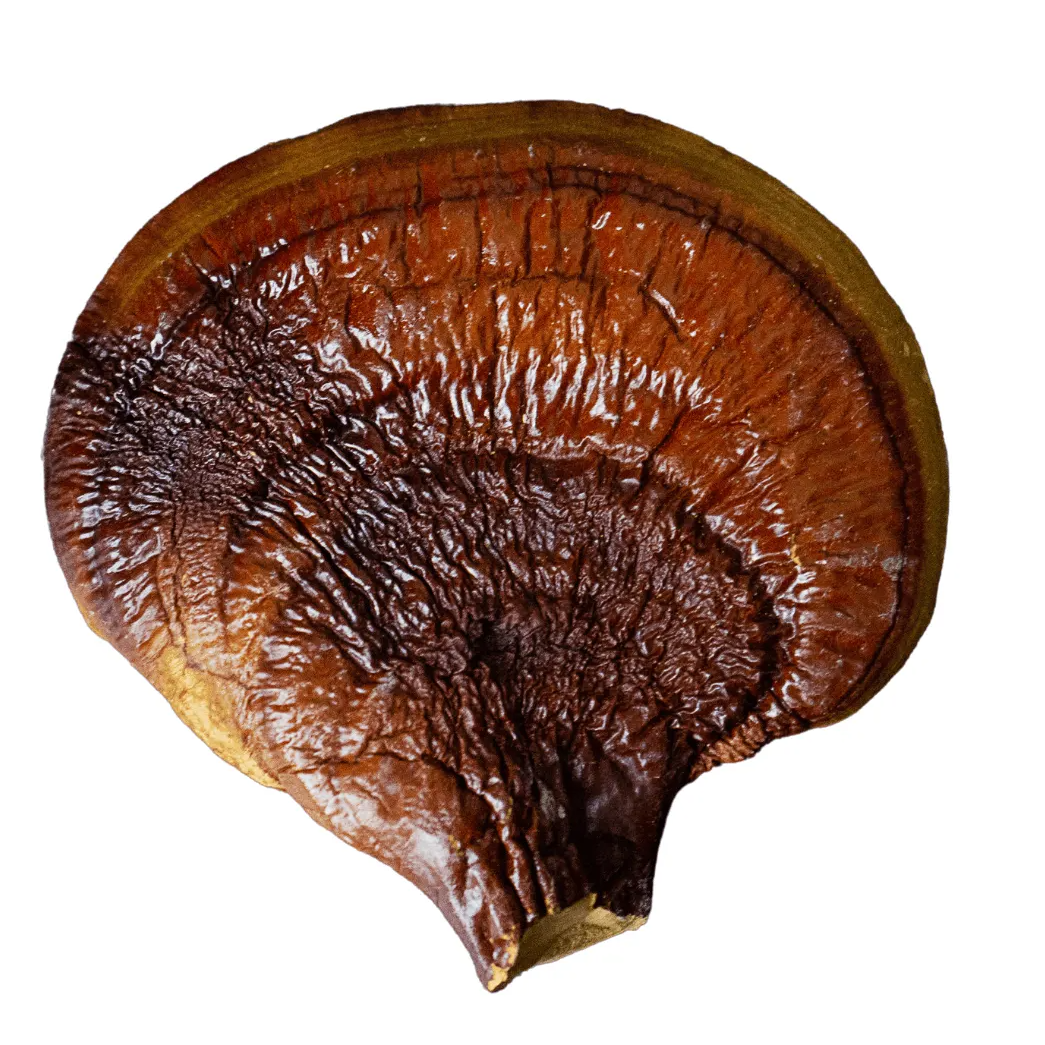 Reishi Mushroom
Shown to boost the immune system's natural killer cells. Fighting off possible invading bacteria.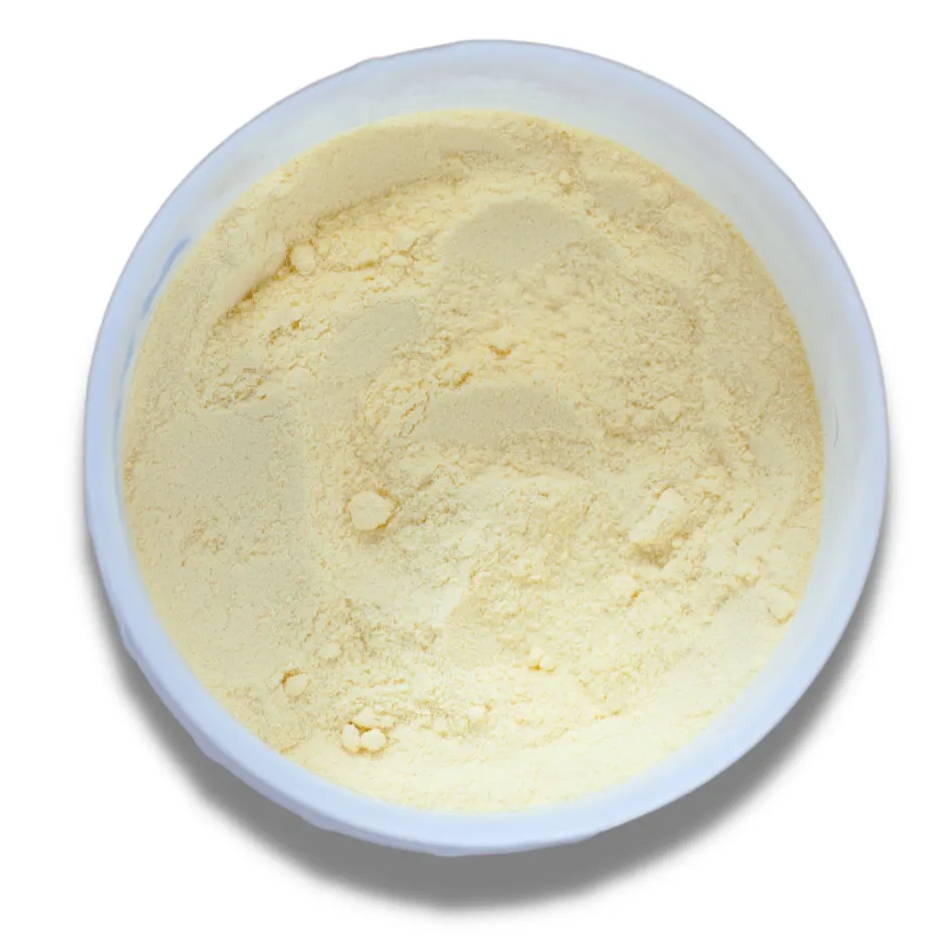 Vitamin C
Helps activate the body's immune system cells, and antigen-specific T-lymphocytes that attack anything perceived as a foreign agent.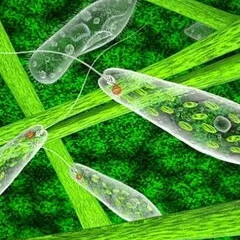 Beta Glucan
Used to help detox the body and strengthen the immune system.
If you were to try to replicate the ingredients in just one month's supply of our Immune Support Super Stack you could pay over $200.
That's a bottle for the Beta Glucan from the Algae, a bottle for Vitamin C, a bottle for Zinc, the Selenium, the B6, not to mention a bottle of our special THREE MUSHROOM blend of Lion's Mane, Reishi, and Chaga!
These are very high-quality, expensive ingredients.
Now your health is worth every penny, but

you don't need

to spend $200 a month.
We included all of these ingredients in our formula, derived from the best quality, plant-based sources. Every single ingredient meticulously analyzed for compatibility and to obtain the perfect nutritional equilibrium.
That is to say the right ingredients in the right amounts.

No you won't pay $200 a month, not $150, or even $100 like you may be thinking.
In fact, a full 1 month's supply of our proprietary formula, with the clinically tested ingredient BetaVia Complete, won't even cost you $50!
For just $39.95 per month, you can ensure you are protecting your immune system every day… But it doesn't stop there.
As part of our BLOWOUT sale, we are going to take 30% off instantly, dropping your price to $29.97!
Our Daily Immune Support Capsules give you access to all 8 ingredients for less than a dollar a day!
Every bottle comes with our 100% SATISFACTION
"LOVE IT OR RETURN IT GUARANTEE"

Use the product for 90 days (yes 90 days!) and if you don't LOVE IT, you can RETURN IT for a full product refund, no questions asked. EVEN IF THE BOTTLES ARE EMPTY.

But that's not all...
We want you to stay healthy all year round, so we're going to offer something even better…
If you buy a 3-month supply, (that's enough for 90 days) we will cut the price in half. The regular price at $119.85 is a bargain for our Super Stack...
But during this BLOWOUT SALE, you'll pay just $59.42 for 3 bottles.
That's less than $.66 per day to maintain a healthy immune system.
And for those of you who think about the long term...
We're offering a special deal on our 6-month supply.
At incredible value at $239.70, but for a limited time, you pay just $71.91. That's less than $0.40 per day!
Now, this offer will only last until our current stock is all gone.
We expect that to happen very quickly, so act now and secure your product.
Remember you have 90 days to return it for a full refund.
We want you to be healthy and happy.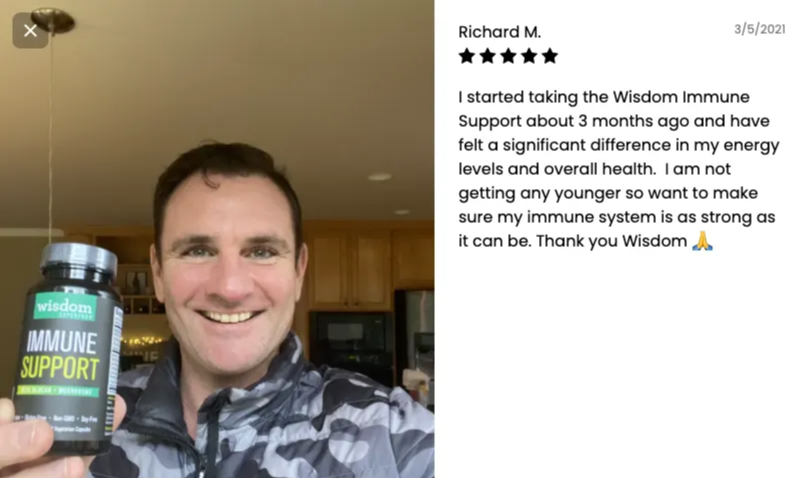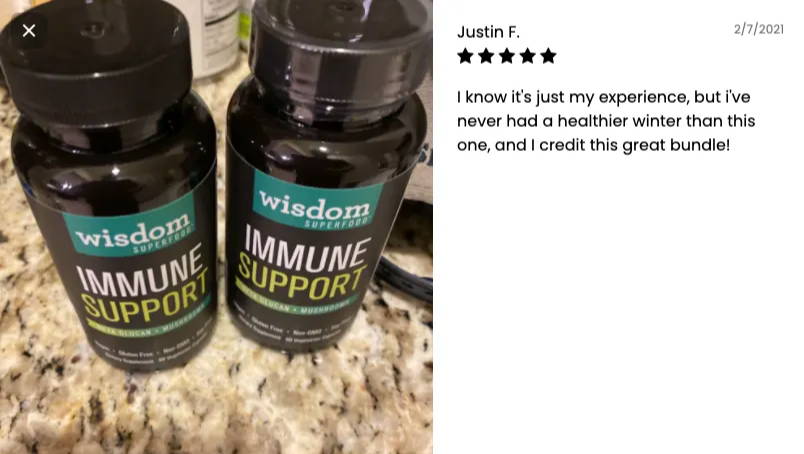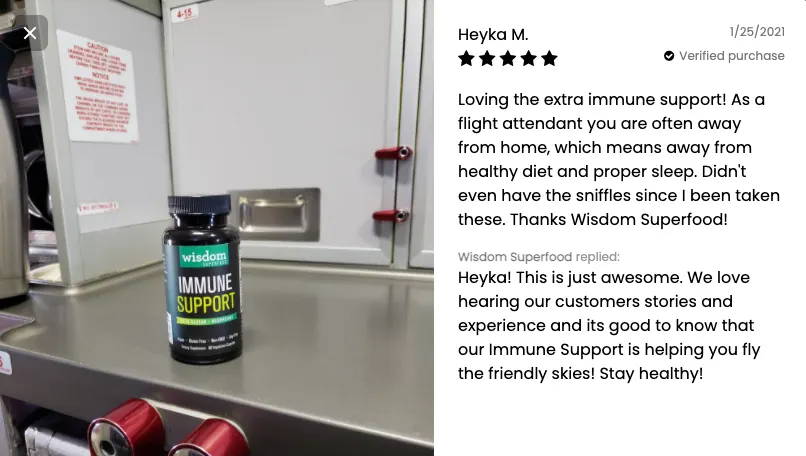 👇 All you have to do is select your bundle below 👇
The ingredients in our Immune Support are generally regarded as safe. It is manufactured in an FDA-registered facility, and every batch is also produced and manufactured according to quality cGMP standards and is third-party-tested.
However, in the rare event you should experience any side-effects from using Immune Support, discontinue use immediately and contact your healthcare provider.
How fast does Immune Support work?
Everybody is different and results vary widely, however, most of our customers notice a difference within the first 30 days and often in the first few weeks.

These are anecdotal, and it should be mentioned that the claims made by the study results are based on a 90-day study. You can view the key findings of the BetaVia Complete Human Clinical Trial (a key ingredient in Wisdom Immune Support) at the end of this website.
How many bottles should I order?
Each bottle of Immune Support contains 60 vegetarian capsules for a 30-day supply.
We recommend taking advantage of buying a 3-month supply considering that we sell out fast.
Shipping is not included. This is our biggest sale ever, and we need to cover the cost of shipping. We are charging a nominal $4.97 for shipping.

When will I receive my order?
We process all orders within 24 - 48 hours of being placed.
Due to the global crisis, we are experiencing delays in delivery times, but depending on where you live, you can expect to receive your order within 4 to 6 business days after your order has been processed, excluding holidays.
After your order is processed, you will receive a follow-up confirmation email providing delivery details.

Do you ship internationally / worldwide / overseas?
Sorry! We only ship to the U.S. at the moment.
Please sign up for our newsletter and we'll let you know when we start delivering to the rest of the world!
What is the best way to take this product?
You have flexibility, just make sure to take 2 capsules a day.
What if Immune Support doesn't work? Can I get my money back? 
If at any point you're not completely thrilled with Immune Support, you are protected by our 90-Day Money-Back Guarantee. Simply give us a call within 90 days and we'll refund 100% of your purchase price - no questions asked… Even if you have an empty bottle!
*These statements have not been evaluated by the Food and Drug Administration. This product is not intended to diagnose, treat, cure, or prevent any disease
1. Euglena gracilis ATCC PTA-123017.

2. Evans, Malkanthi, et al. "Effect of a Euglena gracilis Fermentate on Immune Function in Healthy, Active Adults: A Randomized, Double-Blind, Placebo-Controlled Trial." Nutrients 11.12 (2019): 2926.

3. Kemin, BetaVia Complete reduces upper respiratory tract infection symptoms in healthy active adults. KHTL-017-155.

4. Kemin, BetaVia Complete can prime key cells in the innate immune system. KHTL-017-150.
5. Kemin, BetaViaTM Pure is a Safe Ingredient that Improves Antioxidant Status, KHTL-017-XXX .
6. Kemin, BetaViaTM Complete Supports a Healthy Gut by Protecting Intestinal Barrier Function after Induced Colitis in Mice. KHTL-017-XXX.
7. Kemin, Characteristics and Prebiotic like Properties of BetaVia Complete. KHTL-017-149.
8. Russo, R., et al. "Euglena gracilis paramylon activates human lymphocytes by upregulating pro‐inflammatory factors." Food Science & Nutrition 5.2 (2017): 205-214.
9. Kondo, Y., et al. "Cytokine-related immunopotentiating activities of Paramylon, a β-(1→ 3)-D-glucan from Euglena gracilis." Journal of Pharmacobio-dynamics 15.11 (1992): 617-621.
10. Kankkunen, P., et al. "(1, 3)-β-Glucans activate both dectin-1 and NLRP3 inflammasome in human macrophages." The Journal of Immunology 184.11 (2010): 6335-6342.
11. Brown, G.D., and Siamon G. Immune recognition: A new receptor for [beta]-glucans." Nature 413.6851 (2001): 36.
12. Brown, G.D., et al. "Dectin-1 is a major β-glucan receptor on macrophages. Journal of Experimental Medicine 196.3 (2002): 407-412.
13. Brown, G.D., et al. Dectin-1 mediates the biological effects of β-glucans." Journal of Experimental medicine 197.9 (2003): 1119-1124.
14. Goodridge, H.S. et al. "β‐glucan recognition by the innate immune system. Immunological reviews 230.1 (2009): 38-50.
15. https://www.ncbi.nlm.nih.gov/pmc/articles/PMC6891282/ Wińska K, Mączka W, Gabryelska K, Grabarczyk M. Mushrooms of the Genus Ganoderma Used to Treat Diabetes and Insulin Resistance. Molecules. 2019;24(22):4075. Published 2019 Nov 11. doi:10.3390/molecules24224075
16. https://pubmed.ncbi.nlm.nih.gov/28087447/ 1) He X, Wang X, Fang J, Chang Y, Ning N, Guo H, Huang L, Huang X, Zhao Z. Structures, biological activities, and industrial applications of the polysaccharides from Hericium erinaceus (Lion's Mane) mushroom: A review. Int J Biol Macromol. 2017 Apr;97:228-237. doi: 10.1016/j.ijbiomac.2017.01.040. Epub 2017 Jan 10. PMID: 28087447.
17. Zhang Yi, Yang Shao-long, Wang Ai-hong, Sun Zhi-chun, Zhuo Ya-fen, Xu Ye-ting, He Yu-ling, "Protective Effect of Ethanol Extracts of Hericium erinaceus on Alloxan-Induced Diabetic Neuropathic Pain in Rats", Evidence-Based Complementary and Alternative Medicine, vol. 2015, Article ID 595480, 5 pages, 2015. https://doi.org/10.1155/2015/595480
18. https://pubmed.ncbi.nlm.nih.gov/18434051/ Sun JE, Ao ZH, Lu ZM, Xu HY, Zhang XM, Dou WF, Xu ZH. Antihyperglycemic and antilipidperoxidative effects of dry matter of culture broth of Inonotus obliquus in submerged culture on normal and alloxan-diabetes mice. J Ethnopharmacol. 2008 Jun 19;118(1):7-13. doi: 10.1016/j.jep.2008.02.030. Epub 2008 Mar 4. PMID: 18434051.