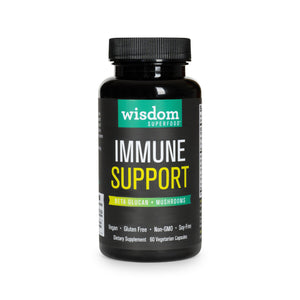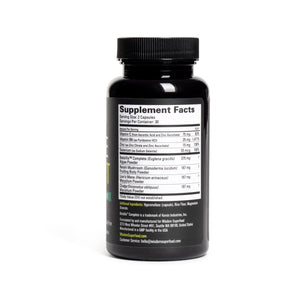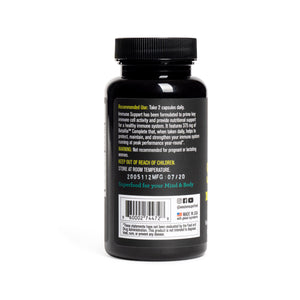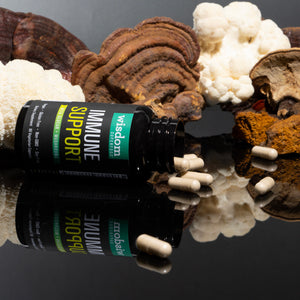 Wisdom Superfood Daily Immune Support with Functional Mushrooms & Beta-Glucans. 30 Day Supply
Introducing Wisdom Superfood Immune Support: Your Secret to a Strong Immune System! 🌱💪
We understand the importance of a robust immune system in keeping you healthy and thriving. That's why we've carefully crafted Wisdom Superfood Immune Support, a powerful dietary supplement designed to support your immune system and keep it in peak condition.

Our specially formulated blend contains a host of incredible ingredients known for their immune-boosting properties. Let's take a closer look at what's inside:

🍄 LION'S MANE: Enhance your mental focus, clarity, memory, and nerve health with this remarkable mushroom extract.

🍄 CHAGA: Support your immune system, aid digestion, and maintain healthy blood sugar levels with this natural wonder.

🍄 REISHI: Known as the "Tree of Life" mushroom, it activates your immune system and has been treasured for centuries for its longevity benefits.

🍊 VITAMIN C: Get a dose of 75 mg of this essential vitamin to strengthen your immune function.

🍌 VITAMIN B6: Support brain health and energy production with this vital nutrient.

🌾 ZINC: Boost your immune function and support metabolic health with this key mineral.

🍃 SELENIUM: Enjoy antioxidant protection and promote healthy thyroid function with this essential trace element.

🌿 BETAVIA® COMPLETE: Our unique, plant-based dietary ingredient sourced from Euglena gracilis algae is a nutrient powerhouse. With over 50% beta glucans 1,3 and 20% protein, it nourishes your immune system, protects against oxidative stress, and supports the health of your respiratory and digestive tracts.

Wisdom Superfood Immune Support primes your key immune cells and provides the vital nutrition your immune system needs to stay strong. With 375 mg of BetaVia™ Complete in each daily serving, you can trust that your immune system will be protected, maintained, and fortified year-round.*

It's easy to incorporate Wisdom Superfood Immune Support into your routine. Simply take two capsules daily with water or food to maintain a healthy immune system. For optimal results, complement your supplement intake with regular exercise, a wholesome diet, ample sleep, and effective stress management.

Prioritize your immune health with Wisdom Superfood Immune Support and embark on a journey towards wellness and vitality. Stay strong, stay healthy!

#ImmuneSupport #HealthAndWellness #WisdomSuperfood

*These statements have not been evaluated by the Food and Drug Administration. This product is not intended to diagnose, treat, cure, or prevent any disease. Please consult your healthcare professional before starting any dietary supplement.